The Best Choice for Dumpster Rental Asheville
If you're looking for the best dumpster rental Asheville to handle your next project, Rock Creek Containers has what you need to get the job done right the first time! Our team is the premier choice for Asheville NC roll off dumpster for rent selections because we care about our customers and the success of their residential or commercial projects. We're passionate about what we do and show that by providing our neighbors and fellow business owners in Asheville, North Carolina with a wide range of dumpster rental options to support their projects.

If your worksite, business, or project requires a dumpster rental Asheville, you're in the right place. Container rentals are a beneficial addition to estate cleanouts, home remodels, yard waste removal, and roofing repairs or replacements, among other ventures. We make it a priority to provide high-quality, budget-friendly dumpster rentals in Asheville NC options.

We make trash disposal easy and stress-free and we understand that choosing the right Asheville dumpster to fit your needs can be overwhelming. Our knowledgeable team is here to ensure the container you select will handle your disposal needs in an efficient and cost-effective way. It's our goal to make the dumpster rental Asheville process an easy one with online booking, quick delivery, and convenient pickup that works for your schedule. Contact us now to set up your next dumpster rental Asheville South Carolina by giving us a call at (828) 692-9017 or book online today.
Holds 3x Pickup
Truck Loads
Holds 3x Pickup
Truck Loads
Holds 3x Pickup
Truck Loads
Various Convenient Uses for Dumpster Rental Asheville NC
Customers choose Rock Creek Containers for their dumpster rental Asheville NC to help support many different types of projects including residential, commercial, and construction. No project is too big or small for us! Whether you're clearing out your yard, tearing down a shed, remodeling a bathroom, or planning a new housing development, we're the go-to dumpster services Asheville NC to accommodate all your needs.

If you're seeking ongoing waste management for the apartment complex you manage or are getting started on that guest room build-out, we're here to help. Our team cares about the health and safety of our community. When you rent an Asheville garbage dumpster from our locally owned and operated business, you can rest assured we will dispose of your waste properly. We partner with the Buncombe County Transfer Station to ensure disposal of your waste follows all city, county, and state regulations.

Contact us today to schedule your Asheville roll off dumpster rental and get started on your project with the added support of our experienced team. We make the dumpster rental Asheville NC process easy and straightforward! Reserve your container online with a few easy clicks or if you have questions, give one of our customer service representatives a call at (828) 692-9017.
Affordable Residential Dumpster Rental Asheville
Customers come to us for their residential dumpster rental Asheville when starting a new project that will accumulate a lot of waste. When you decide to rent a dumpster Asheville to make the job easier and more efficient, you'll save time, energy, and resources by not having to make multiple trips to and from the landfill. Set your project up for success by booking one of our residential dumpster rental Asheville options today!

Home improvement and repair projects are difficult enough on their own, so let us manage some of that workload so you can focus on the amazing results of all of your effort. When you rent a dumpster in Asheville NC, you're securing on-time delivery, competitive pricing, timely pickup, and unbeatable customer service. Customers often rent our services for garage cleanouts, roofing repairs, landscaping, estate sale preparation, downsizing, removing furniture, and a wide range of other projects.

We offer dumpsters to handle jobs of any size and our easy-to-use online booking service will have you set up with a Asheville residential dumpster rental in minutes from the comfort of your home. Book with us for your remodeling, repair, or cleanout needs!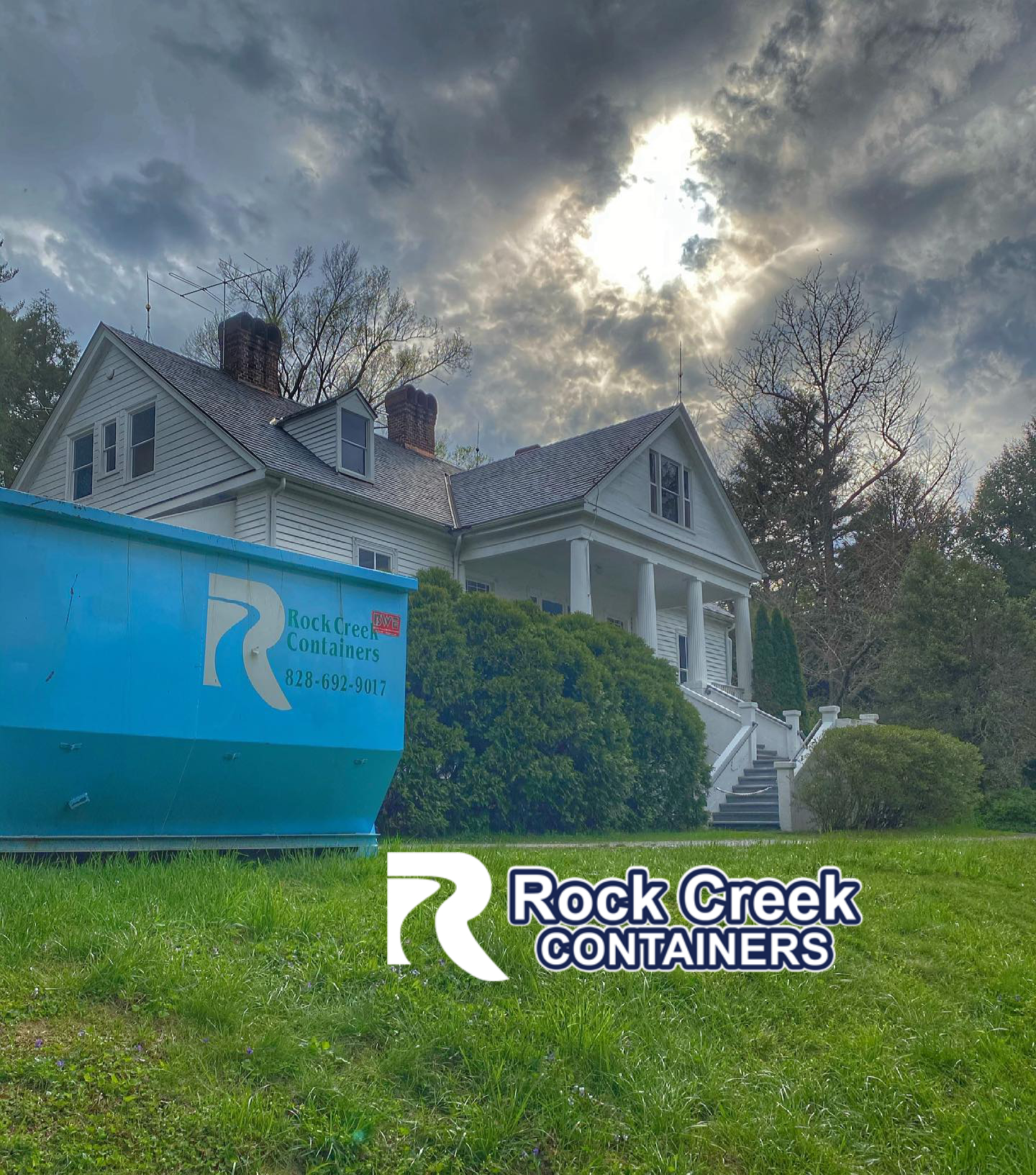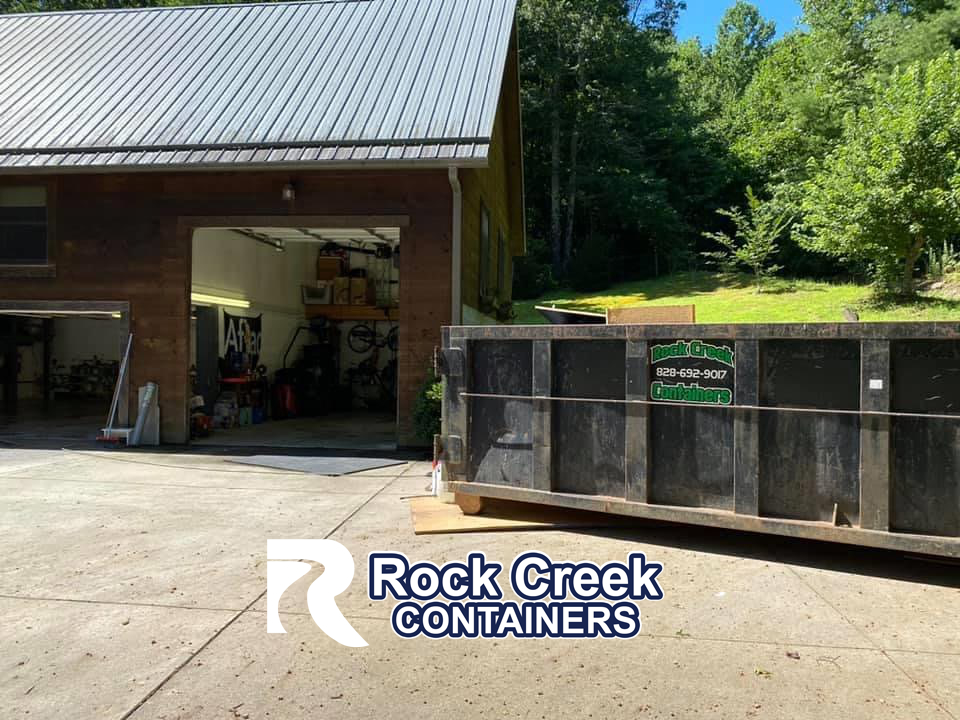 Convenient Yard Waste Dumpster Rentals Asheville NC
Whether you're hoping to redesign your landscaping or want to spruce up your flower beds, our dumpster rentals Asheville NC will help make your next outdoor project a walk in the park. Increase the curb appeal of your home and get rid of piles of brush in one fell swoop.

Our Asheville NC dumpster rental can provide an easy haul away of your overgrown shrubbery, gutter waste, broken outdoor furniture, or any other yard projects you may be taking on. Some people place their trash on the curb to be picked up, but it sits for weeks or traditional services can't accept the volume of waste you're trying to dispose of. Rock Creek Containers has what you need to feel confident you will have your yard looking refreshed in no time without having to wait for someone to come pick up the trash. Book your rental online now!
Contractors' Choice for Construction Dumpster Rental Asheville
Construction sites need reliable quality dumpsters and we are the go-to source for construction dumpster rental Asheville. When contractors rent from our team, they know they will not only receive quality dumpsters but will also receive top-notch customer service and reliable delivery. We're the trusted choice for contractors and commercial professionals seeking affordable and reputable rental options.

Our Asheville construction dumpster rental can accommodate the heavy and bulky items that construction sites accumulate including shingles, asphalt, drywall, nails, siding, tiles, and more. If your job requires more than one construction dumpster rental Asheville, Rock Creek has you covered. Just let us know when you need the second dumpster delivered and we will be there.

We have worked with many satisfied contractors providing quality dumpster rentals for construction debris in Asheville NC at great prices. Contact us today by giving us a call at (828) 692-9017 or book your roll off online today!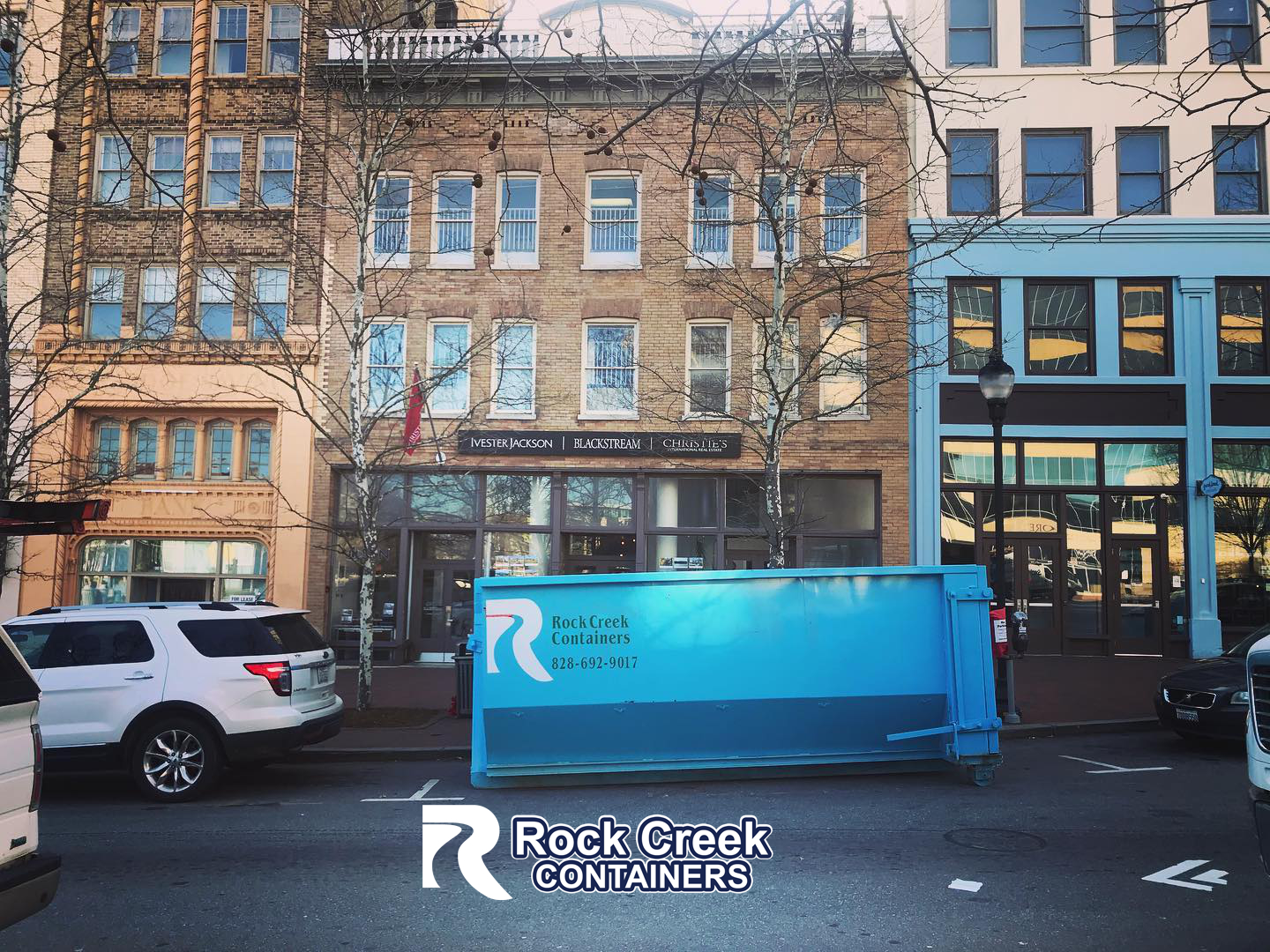 Heavy-Duty Roofing Roll Off Dumpster Rental Asheville
Whether you're repairing your own roof or planning a roof replacement as a contractor, we're confident our roll off dumpster rental Asheville options will help you get the job done quickly and efficiently. Our containers can handle a wide assortment of construction and roofing materials including shingles, tiles, nails, lumber, and more. Our large selection of construction dumpster rental Asheville NC options is the #1 choice for any roofing project. Built by reputable manufacturers, they're designed to handle bulky materials in a safe and convenient fashion.

Our team is always available to help with deciding what size roll off dumpster rental Asheville works best for your needs. We know we have a container that fits the scope of your roofing project. Just give us a call at (828) 692-9017 or book online to reserve your roll off dumpster Asheville.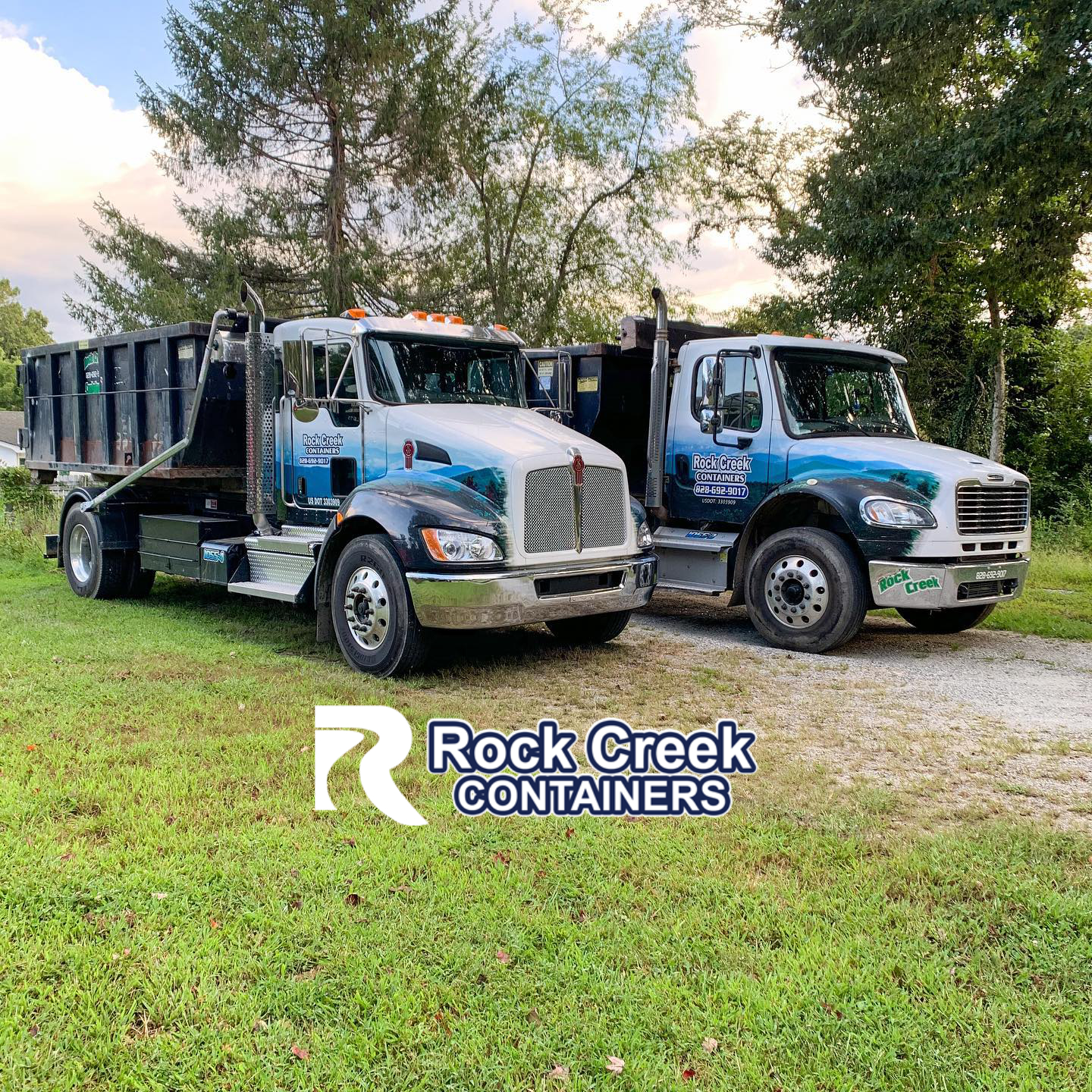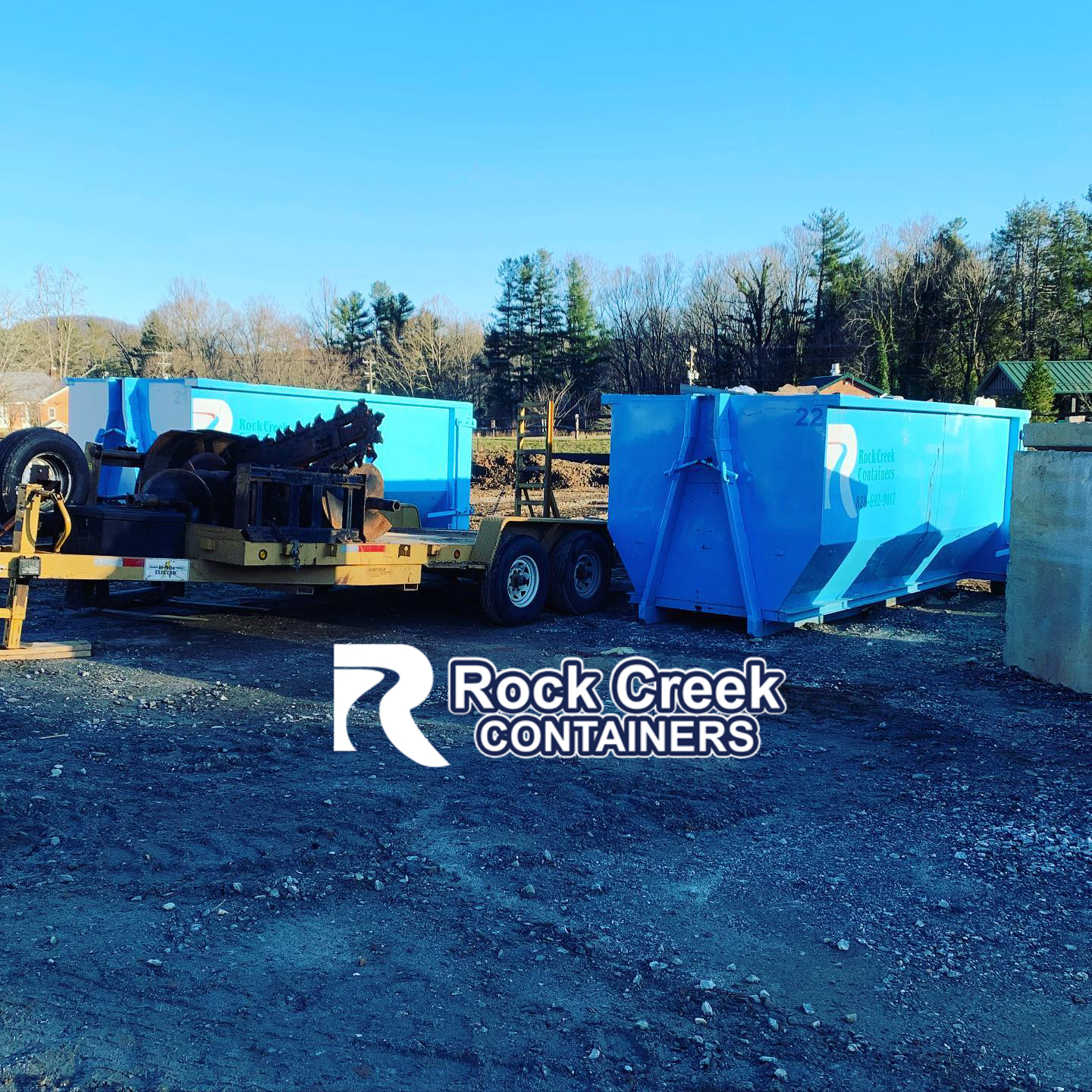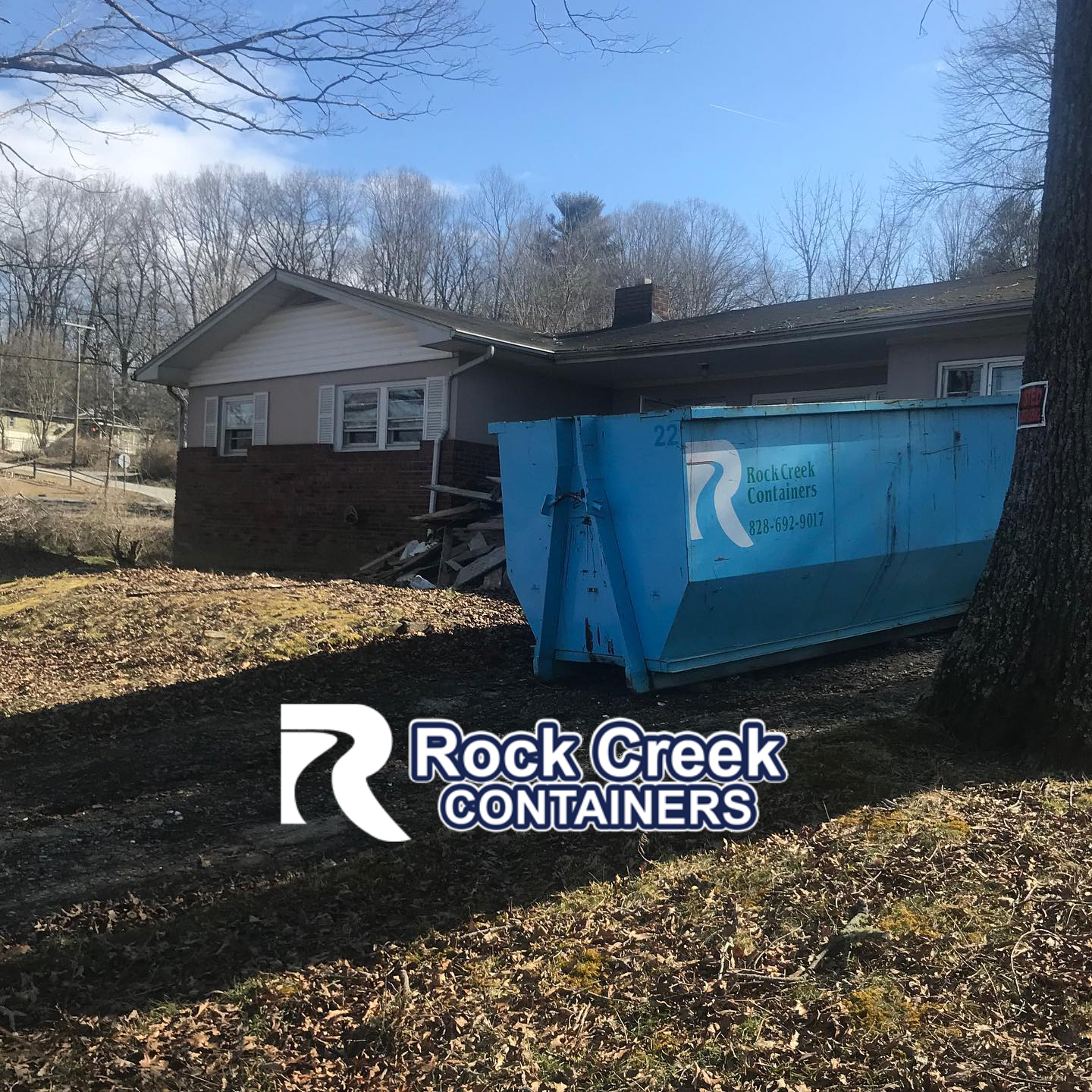 Commercial Roll Off Dumpster Rental in Asheville NC
Rock Creek Containers is your go-to source for a commercial roll off dumpster rental in Asheville NC. Our dumpsters are affordable, high-quality, and reliable, and our helpful team can recommend the proper size to work for your specific needs. Whether you're interested in ongoing waste management or a short-term rental to clean out a commercial space, we're confident our garbage dumpster Asheville will do the trick.

From small business waste management to dumpsters for apartment complexes, our commercial dumpster rental Asheville NC can handle the job. We regularly work with property managers, hotel managers, school districts, small businesses, office parks, shopping centers, and other commercial spaces to handle their waste disposal with our professional, responsible, and reasonably-priced roll off dumpster rental Asheville NC. Reach out to one of our customer service representatives to learn more about what Rock Creek Containers can do to help with your commercial waste management or book online today.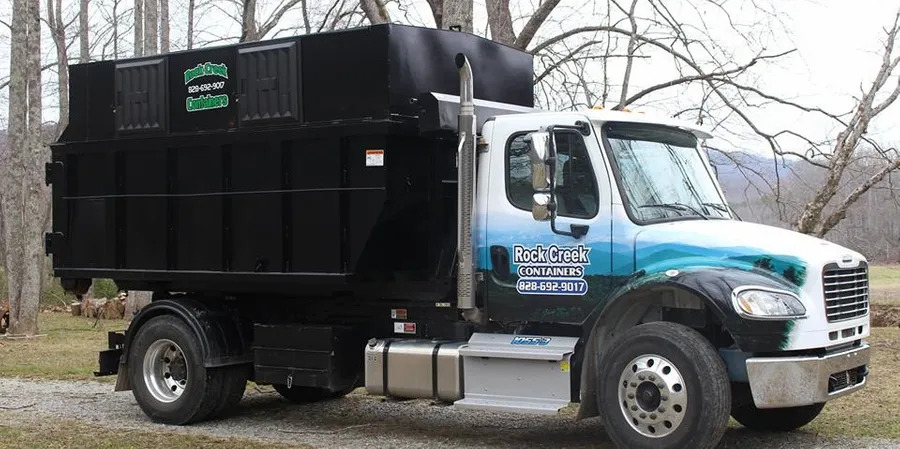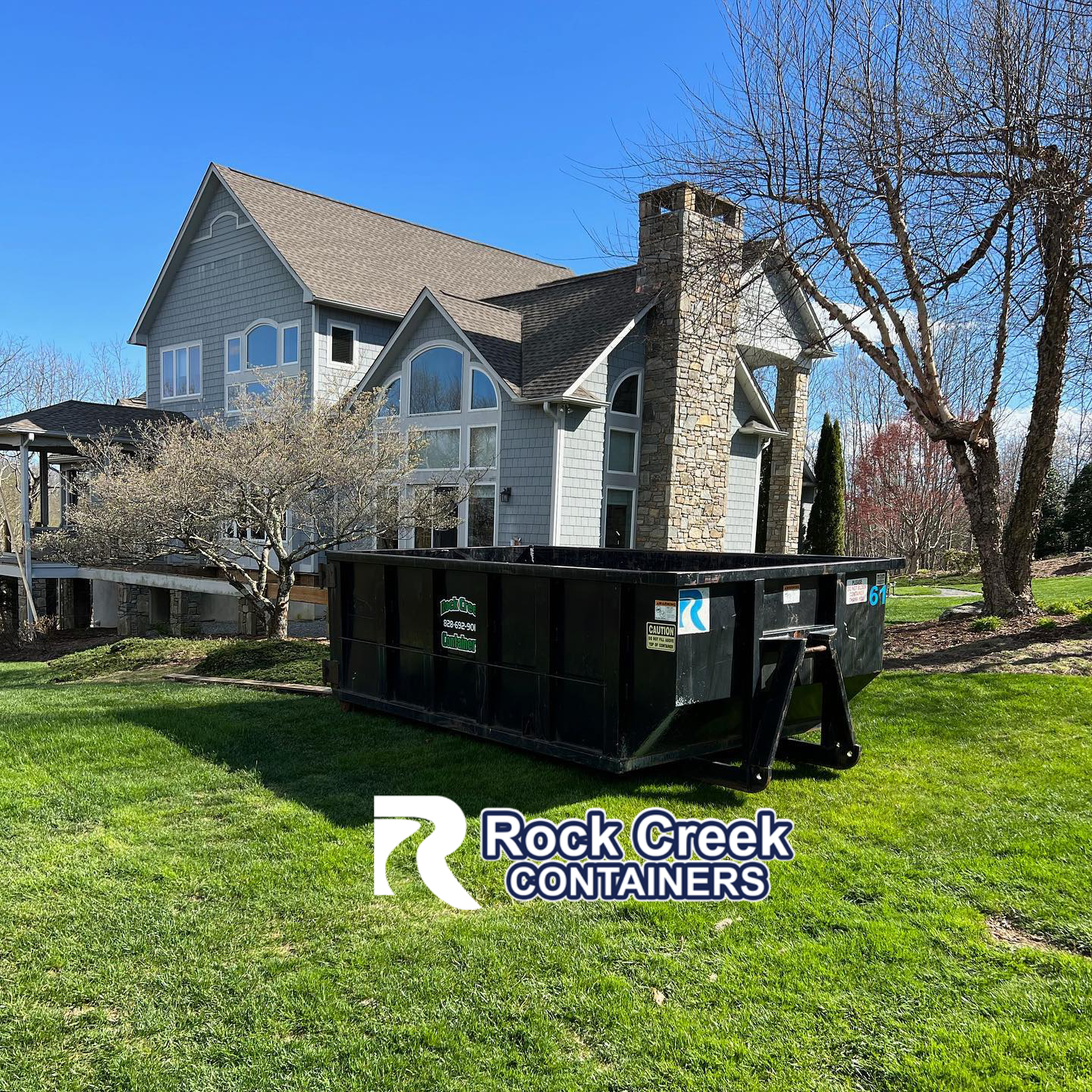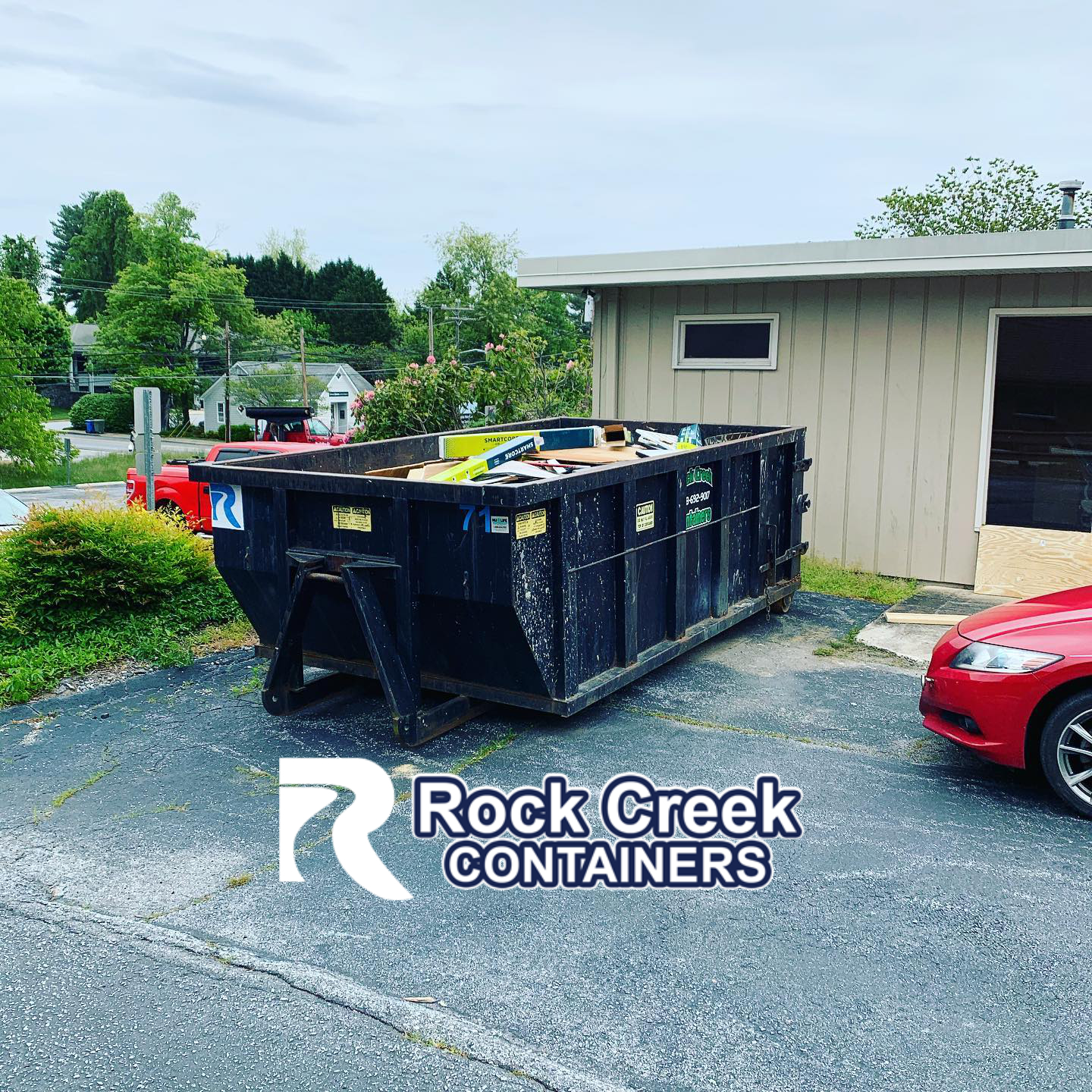 How to Rent a Reliable Asheville Dumpster Rental Today!
Booking one of our Asheville dumpster rental options is a simple and straightforward process with our online scheduling system! We do our best to make dumpster rentals Asheville South Carolina easy, affordable, and reliable. With just a few clicks or a quick phone call, we will have the dumpster you need for your project or job delivered in no time.

Booking dumpsters in Asheville NC has never been easier. Just click the "Dumpster Rental" button on the navigation bar and browse our online inventory to see which container is best suited for your project. Choose the dumpster that best fits your needs and click the light blue "Book Now" button. Follow the rest of the prompts, submitting contact information, delivery information, job information, and payment information using our secure online system. Easy as 1, 2, 3.

You'll receive a confirmation email from our team verifying your contact and delivery information then our team will be in touch leading up to the delivery date to confirm a drop-off window for your Asheville dumpster rental. If you are unsure or have questions about your Asheville roll off dumpster, no problem. Give us a call at (828) 692-9017 and we will be happy to help you reserve your dumpster over the phone.



Amazing Sizes & Prices of Roll Off Dumpsters Asheville
At Rock Creek Containers, we have the best size and prices of roll off dumpsters Asheville. We offer dumpsters to fit every project, large or small. Our team is here to make your project clean-up convenient and quick. If you are looking to rent a roll off dumpster Asheville, we have the one to fit your project scope and budget.

We offer a 15 yard dumpster container rental Asheville NC options that suit most residential projects. This size container hauls the same amount as 6 pickup truck loads. At just $200, you can book our 15 yard dumpster for up to 7 days and add more rental time if needed for an additional $5 each day. This dumpster is great for home remodels, general household cleanups, yard projects, and smaller-scale commercial projects.

The other container we carry is a 20 yard dumpster. Our 20 yard holds the equivalent of 8 pickup truck loads and only costs $225 for up to 7 days. This dumpster can handle slightly larger projects than our 15 yard dumpster, including larger home renovation projects, roofing replacements, and construction developments. For the dumpster Asheville rental prices, our 20 yard dumpster is a great deal.

We understand most customers are looking for a cheapest dumpster rental Asheville,, which is we prioritize affordable prices AND great quality, industry-standard containers with unmatched customer service. Book your roll off online today or give us a call at (828) 692-9017 with any questions. When you're ready to take the next step and rent a dumpster in Asheville, give us a call and we'll get you set up today!


We Take Just About Everything
Some examples of the junk we haul away include
Refrigerator Disposal

Garbage Removal

Mattress Disposal

Foreclosure Clean Outs
Construction Waste Removal

Yard Waste Removal

Trash Removal

Appliance Removal
Television Disposal & Recycling

Furniture Removal

E-Waste Disposal

Hot Tub Disposal
Providing Asheville Dumpster Options to Surrounding Areas
When looking for your next Asheville dumpster rental, make Rock Creek Containers your first choice for reliable service, on-time delivery, and flexible scheduling. We have a large inventory to ensure we have what you need when you need it. We proudly serve the following zip codes of Buncombe County with quality containers: 28801, 28803, 28804, 28805, 28806, and 28810.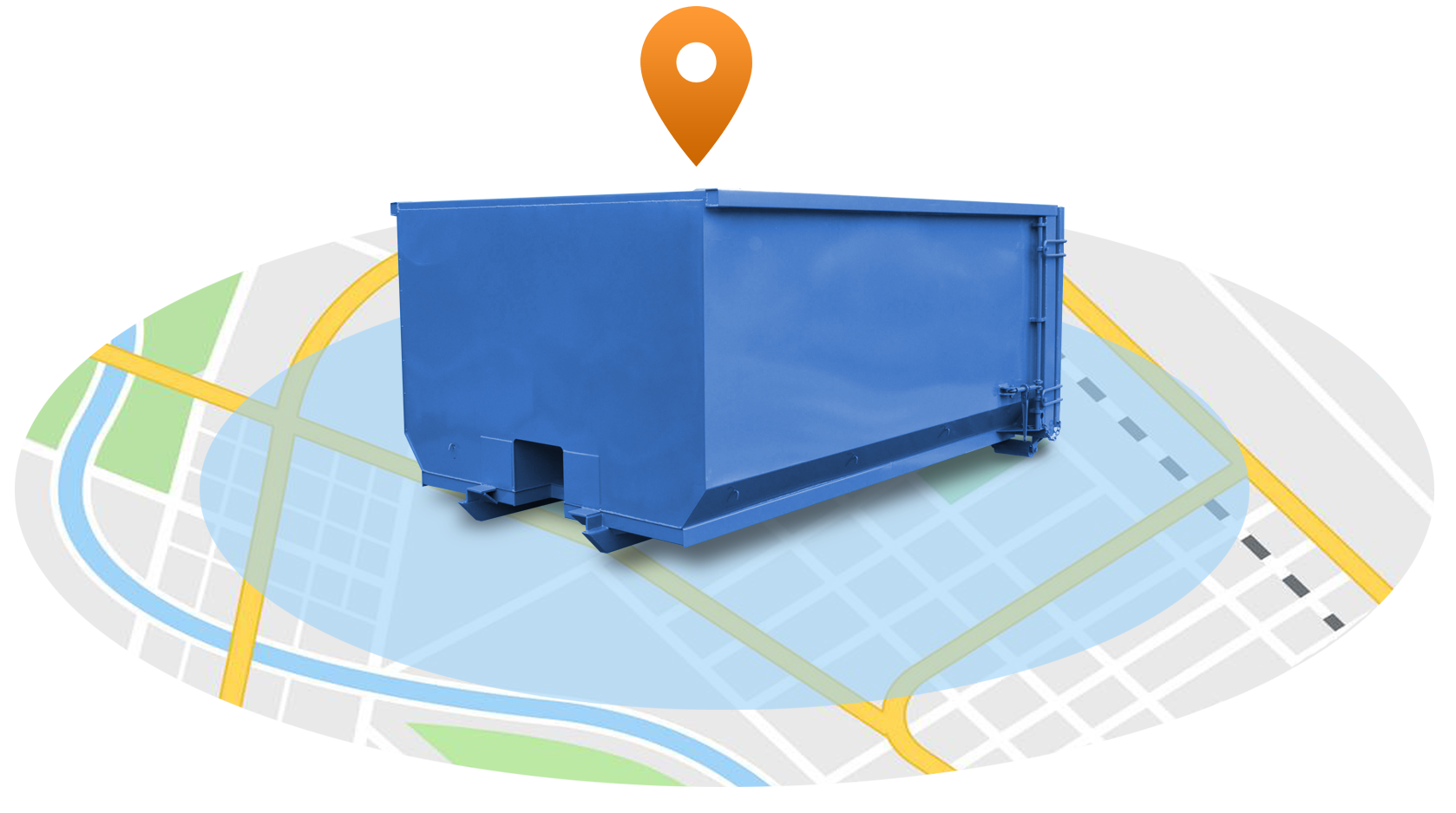 We deliver our Asheville dumpster rentals to surrounding areas, including Hendersonville, Dana, Flat Rock, East Flat Rock, Horse Shoe, Fletcher, Mills River, Tuxedo, Zirconia, Mountain Home, Edneyville, Etowah,
Hendersonville
, and Greenville SC. Renting
Asheville small dumpsters
will ensure our local parks, playgrounds, and recreational areas are clean for the community to enjoy. No one wants to spend a day at Carrier Park surrounded by overflowing trash.
If you don't see your zip code or city listed, get in touch with us to see how we can provide exceptional service to your neighborhood. We can often make arrangements to deliver our
dumpster rental Asheville, NC
outside of our listed service area, but additional fees may apply. Contact us by giving us a call at (828) 692-9017!
Frequently asked questions when choosing a Dumpster Rental in Asheville NC
We know that choosing the right dumpster rental in Asheville NC is not always an easy decision. We've compiled some of the most popular questions that our customers come to us with when deciding on the best Asheville NC dumpster service to suit their needs. If you can't find the answers you're looking for, please don't hesitate to call one of our team members to learn more about your rental options today.
Q.
What type of items can I dispose of in your containers?
A.
We take just about everything! Some examples of the items we can haul away with our dumpster service Asheville, NC include general garbage, yard debris, construction debris including shingles, tiles, lumber, nails, paneling, plastic, and drywall, furniture, appliances, and general waste. We cannot accept flammable or hazardous materials including paints, asbestos, gasoline, motor oils, or fuels.
Q.
Do you have any tips for loading roll off dumpsters for maximum capacity?
A.
When loading one of our dumpster rental Asheville NC Asheville NC containers, we recommend putting the larger items in first, such as furniture, cabinets, and large wooden pieces, break down anything that can be broken down like cardboard boxes and, lastly, fit the smaller pieces in the remaining space. It's important for your safety as well as the safety of our drivers to not overfill the containers, being sure to stop when you reach the marked capacity line. We cannot haul away containers with materials hanging off or overflowing.
Q.
Can you fill the dumpster higher than the sides?
A.
No. Please fill to the maximum line only for the safety of you, our drivers, and your neighborhood streets when transporting a dumpster rental in Asheville, NC away from your location. If you have any questions along the way, get in touch with us about an additional dumpster rental and your other options.

If you have any additional questions about our dumpster rental in Asheville NC options, feel free to give us a call at (828) 692-9017 to get started today!